Setting up shop at a trade show or convention? Give your visitors something they'll hang onto and keep your company name top of mind.
Business card file case
Visitors to tradeshows collect business card after business card. Why not let BRAVA Marketing Promotions help you provide visitors to your booth with a simple yet efficient and classy way to keep all their cards neat and organized?
Imagine the average tradeshow visitors walking around with pockets and pocketbooks loaded with business cards. They reach your booth and you solve their problem by giving them this handy storage case.
Who wouldn't be thankful to you and your business for coming to their rescue?
And, of course, each time they glance at the cover of this stylish business card file case they'll see your company's name and logo.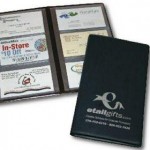 The case is approximately 4"x10", but holds an impressive 72 cards. That means that there will be plenty of opportunities for the potential customer to be reminded of your business each time he reaches for the case to add or replace a card.
Letter opener
In this computer age we all still receive the traditional kind of mail. And we all still struggle to open the envelopes.
Make it easy for your potential customers to read their correspondence with this slim, sleek and easy-to-use letter opener.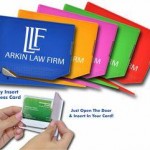 Imagine how many times per day they will be exposed to your business name as they run this handy little tool across their envelopes. Your business name is clearly screen-printed across the front. Plus, the letter opener includes an interior window compartment where you can place a copy of your business card.
Stress relievers
Everyone enjoys visiting tradeshows. But when they end it's time for your potential customers to return to their regular jobs. And, for many, that means stress.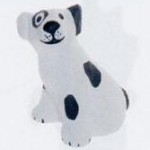 Help them get rid of their tension with the ever-popular stress relievers. BRAVA Marketing Promotions gives you a huge inventory of styles from which to choose. Let your customers squeeze adorable puppies, duckies or penguins. If you have a completely different sort of customer in mind, you can opt for a snake, a spider or a bat.
Need something for the sports fan? Let them get a grip on a basketball, football, baseball or soccer ball just to name a few sports stress relievers. Hockey fans and stock car racing fans have their stress relievers, too.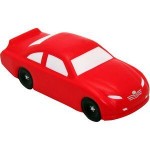 If you're not sure which stress reliever would best suit your customer, just remember that if it's true that we could all use a little more money, then you can't go wrong with a stress reliever in the shape of a squeezable stack of $100 bills.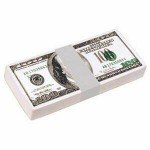 We have the tradeshow promotional items your customers will actually use
BRAVA Marketing Promotions specializes in producing high quality promotional merchandise and unique custom printed products. These imprinted items are tailored to meet the specific promotional and marketing goals of large or small organizations and businesses. Contact us today for all your promotional product needs including personalized apparel, business accessories, trade show giveaways, corporate gifts, awards, and much more.