Let's face it. If you can't get your prospective client on the phone, it's probably because he's on the golf course.
Play it smart, and make sure that the next time he heads for his favorite course he takes your company with him using BRAVA's custom-imprinted promotional gift items designed especially with the golfer in mind.
Caps
Most golfers would never think to play a round of golf without wearing some sort of headgear. Their hat is an essential part of their equipment.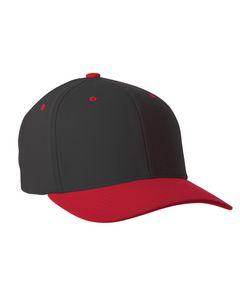 Give them a custom-imprinted cap from BRAVA. Your company's name will be professionally branded across the cap, making it easy for all those in your potential client's playing group to see.
BRAVA offers many variations on the typical baseball cap, including mesh, low-profile, flat-brim, square-block and colorblock models.
Other cap styles include the military look for the more rugged individual; the classy driver cap for the stylish gent; and the bucket cap for the laid-back fun-loving member of the group.
Golf tees
Get your company's name in front of your potential client up to 18 times a day with custom-imprinted golf tees.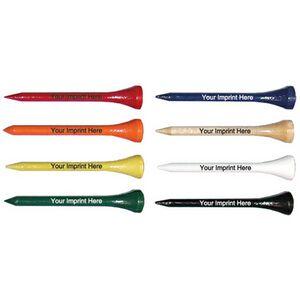 BRAVA offers tees of varying lengths: 2-1/8-inch, 2-1/6-inch, 2-3/4-inch and 3-1/4-inch.
You can also choose from a variety of colors.
In addition, you have the option of selecting loose tees or a set of tees. For example, there's the matchbook set where your logo can be imprinted on the cover of a matchbook that holds a number of tees that are also branded.
Divot tools
Some say golf is a metaphor for life. In both golf and life one thing is for sure–divots happen.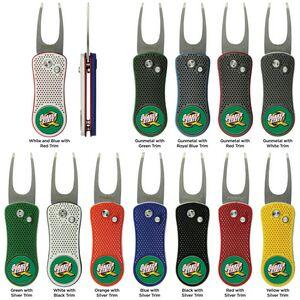 Help your prospective client remain in the good graces of the course manager with BRAVA's branded divot repair tools.
Your company name or logo can be custom imprinted, die struck or engraved on the divot tool, reminding that potential client that your company can solve his problems, and is always handy when he needs it.
Ball markers
Your prospective client is definitely going to want to mark his ball on the green with these clever customized poker chip-style ball markers from BRAVA.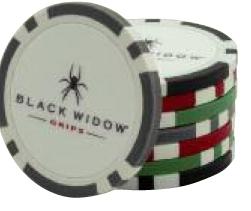 Your logo will appear on both sides of the marker. And if your company has two logos, you can opt to have one appear on each side. Both sides will be in full color.
The markers look like just like poker chips, but the ABS plastic shell hides a steel disc that gives the marker the proper weight to remain exactly where your prospective client places it.
Contact BRAVA Marketing today to make sure that your potential client never tees off again without you.
BRAVA Marketing Promotions specializes in producing high-quality promotional merchandise and unique custom printed products. These imprinted items are tailored to meet the specific promotional and marketing goals of large or small organizations and businesses. Contact us today for all your promotional product needs including personalized apparel, business accessories, trade show giveaways, corporate gifts, awards and much more.