There's always going to be one constant in your life: stress. Love it or hate it. It happens. That's life. BRAVA Marketing accepts it. What we don't accept is not having the tools to deal with it effectively. It makes sense, though, to get those squeezy custom stress relievers at the doctor's office on occasion, but what about as gifts? That changes everything. And just in case you've noticed — we have quite the selection of custom stress relievers for you to purchase, but you're probably asking yourself WHY?
Why Do I Want Any Custom Stress Relievers ANYWAY?
Heck, you could simply buy a rubber ducky and call it good. Squeeze that thing to death.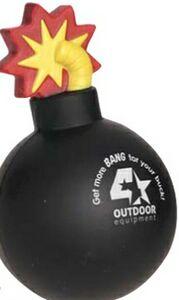 The only thing is it squeaks, and sometimes you just want peace and quiet. Thankfully we have a list of three possibilities to market your business — or just have for your own personal use — with custom stress relievers, branded in your logo or name, and you'd be surprised at how it makes sense!
Check it out:
Therapy — You'd think that's a no-brainer, but we're honestly thinking that many therapists don't even consider this incentive to great patient care. See for yourself.
Festivals — If you're a vendor, one thing's for sure: you want your customers to not only enjoy your product, but their time enjoying your product! Here's why.
Weddings — Duh. Think about it. The bride. The groom. The best man. The FATHER OF THE BRIDE. Heck, even the wedding planner might need some stress relief! Read more here.
That alone is proof that you have tremendous value in purchasing even a few dozen of these really cool custom stress relievers. They are valuable, and not just for a once-in-a-while thing, right?
Definitely Contact Us at BRAVA Marketing Right Now
All you need to do is click right here. And we can get you started. Once you're finished and you have all of your stress relievers, we assure you: you'll be stress-free, too.