Being a carpenter or contractor can be tough for obvious reasons. One, you're basically in business for yourself. And there's a lot of competition out there.  You're at the whim of the demand of someone who needs repairs on any given day, but you need that immediate connection. Someone calls, you answer. Someone emails, you answer. And that demand will be preeeeeetty random — like a branded multi-tool, now that we mention it!
Promoting Yourself Is a Must as a Carpenter or Contractor, and You Can Put Yourself Ahead of the Competition With This One Advantage:
A branded multi-tool. Think about it.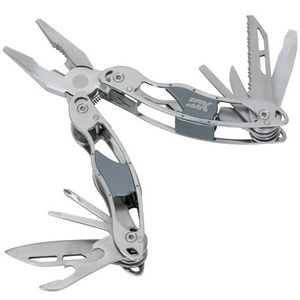 As a contractor, you obviously have your tools, but for the most part, they're generic (and really they should be). But the defining product marketing and branding your business aside from the vehicle you pull up in, your hat, and maybe your shirt and pants, is a little pocket knife. The ultimate tool for anything, but here's the best part:
This largely may be the only tool a customer will actually see at any point in time.
Other tools, obviously, are harder for a customer to see. Like you using a hammer, or a drill. But a multi-tool, utility knife? One flash, perhaps even consulting a customer even, and the imprint of your brand is instant.
The multi-tool is the tool you'll use everywhere. Not just on the job. Even customers identify with those little contraptions! Ask multiple homeowners if they may even know what a "snake" is. Many might not. But a utility knife? That's an American institution.
All It Takes Is ONE Purchase of ONE Branded Multi-Tool With Your Company Name on It
And you're successfully in business. You can even go the extra mile and supercharge your promotional advertising by buying them in bulk and offering them as gifts to clients after projects have been completed.
Remember…. Competition: it's cutthroat. So visit BRAVA Marketing right now. Peruse the many design possibilities. And contact us today. Your next renovation project is waiting.