What's the one thing employees and execs love about doing business? Holidays. As in holiday parties! And the best holiday party a business can throw right in the office is the one on New Year's Eve. Probably second best would be Christmas. Here's the thing about New Year's, though — you get to make noise. A lot of noise. And nothing says employee morale like getting out some custom noisemakers, offering them as gifts, and promoting the reputation and longevity of your business.
Of Course, It's Not Just About Pleasing Your Employees. Branded Noisemakers Can Do so Much More.
Think about it: the end of the year usually should mark a celebration of success for a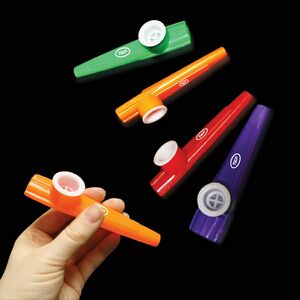 business. Taxes, year-end numbers, revenue, profit, ROI. When a company celebrates the New Year, that company celebrates success, and that not only makes employees happy, but keeps them working. After all, no employee wants to work for a company that isn't doing well.
For businesses, it's always been different. New Year's for individuals is all about starting over, beginning anew — whereas businesses think of getting better. Bigger. It's not a rebirth or restart. Rather, it's a coming of age, a reminder that business is going well, and here's a little something to celebrate the occasion!
Make. Some. Noooiiiiiise! With custom noisemakers!
It's not inappropriate, as you may think. Quite honestly, more businesses should do it. It's one night a year. Set up a lock-in with your business, have your employees invite significant others (probably no kids), dance the night away in the conference room, cater, and then do the countdown.
Can you imagine the amount of employee morale? It would skyrocket. And the branded noisemakers would be the cherries on top.
So What Are You Waiting for? Sign Up With BRAVA Marketing and Get Some Custom Noisemakers Right Now.
You can check out the selections we have immediately. Kazoos, regular paper products, what have you. Whatever style you want. BRAVA Marketing has it. When you've found something that's to your liking, all you need to do is contact us here. And we'll get you all ordered up.
Sound good? Now let's party.