Any smart sports retail marketer would know that tapping into influencers — athletes, celebrities, famous sports team, collegiate — boosts revenue. Since we're heading closer and closer to Spring, it's obvious: the weather's getting better. Lots of aficionados are polishing up their big dogs and putters to head out to the greens. Without a doubt, you can place your logo printed golf umbrellas, clubs, and tees. Customers flood through your doors like ravenous drivers and caddies looking for blood.
It's All About Brand Recognition With These Logo Printed Golf Umbrellas
But don't just put your own logo on them (although that's the first thing you should do).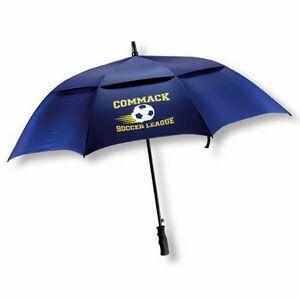 Settle up with some of those celebrities — like Tiger Woods, for instance — and get some of your product custom printed with his brand as well! You wouldn't even begin to imagine just the kind of visibility and impression you make with your retail store doing that.
That's why BRAVA Marketing has the goods and tactics for maximizing your brand through custom-print product strategy. We have the assortment of products, such as these logo printed golf umbrellas to lure the everyday golfer in.
Think Jack Nicklaus and Arnold Palmer. Setting up partnerships with your local country clubs welcomes in some cross-promotional bonus for you and those brands as well. Think about how you can easily take your own house brand and print some of the best logos and names for the sake of visibility and promotion. It speaks dollar signs in droves.
In Fact, Don't Worry About Your Own House Brand — Shop for the Products Here at BRAVA Marketing
Specifically on these logo printed golf umbrellas, actually. You can review some other products as well to fill for your retail store, but when focusing on a niche — specifically Spring sports — this is the place to be. Contact us when you've found a design you like! That's an eagle for you.