It's hilarious how many want to frown on the mundane, at first, over the concept of ice buckets. Like they're just too plain. Sure, you use them to fill up with ice — but as branding gifts? A form of promotion? Wouldn't snazzier products make a better difference? Not so with this list.
Here We Have Your Top 5 Ideas on How to Use Ice Buckets in the Most Creative Ways
And we guarantee you've never thought of these ways. Some are actually quite common but hardly thought of. Others are thought of often but never tried. All of them, though, are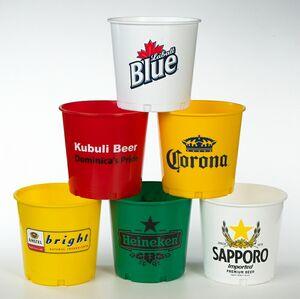 purely genius, and we can bet there are plenty of other uses for ice buckets. But these, without a doubt, are probably the most imaginative, proving that even ice buckets can not only make for a great gift, but a way to promote your brand in the best way:
You can only imagine the possibilities…. And possibly very soon you'll see even more uses for ice buckets here, bringing in more value for you and for recipients of your promotional products. It only gets better from here.
The Point Is Ice Buckets Have Plenty of Possibilities
All you need to do is be creative. One thing's for sure: ice buckets tend to spark the creativity!
BRAVA Marketing Promotions specializes in producing high-quality promotional merchandise and unique custom printed products. Check out our branded ice buckets right here as well.
Contact us today for all your promotional product needs.