Think about how important it is to have a presentation as a bartender. Even better, a presentation as a club. Or restaurant. Or, simply put, a bar. The establishment itself is just one big marketing campaign. A brand development in place to garner the attention of potential customers. Makes sense since the main source of revenue of those establishments happens to be return customers!
Hence You Want to Make Sure Your Customers Know Who You Are and Then COME BACK FOR MORE
They're called "regulars." The ones who keep coming back, because they like the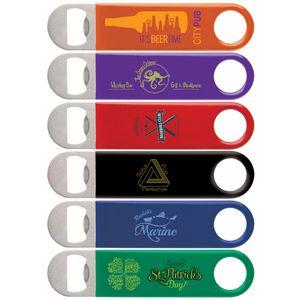 atmosphere. The bartenders. The waitresses. The employees. The good feeling of hanging out, having fun, drinking, and maybe eating some chips. It then makes sense that the one thing you need to do is brand everything in your establishment with your label, your company name.
Why not branded bottle openers? They're used all the time. Bartenders offer instant advertisement just by using those branded bottle openers right in front of customers at the bar, and you don't even need to pay for it every time they're used! It plants an image in the brains of these customers who then associate the service with the name.
So why not get some branded bottle openers for your business? As a bartender, get some of those bottle openers in your name — and become a celebrity bartender mixologist! Makes sense to me.
You Just Need to Contact BRAVA Marketing for More Information About the Branded Bottle Openers We Have in Stock
You're already here, obviously. Why not explore the many designs we have? Then contact us right away, and we'll see what we can do for you. We're all about supercharging your brand and making your name well known among the masses of those who love their alcohol and fun times.
Be a household name. Right here. Right now.